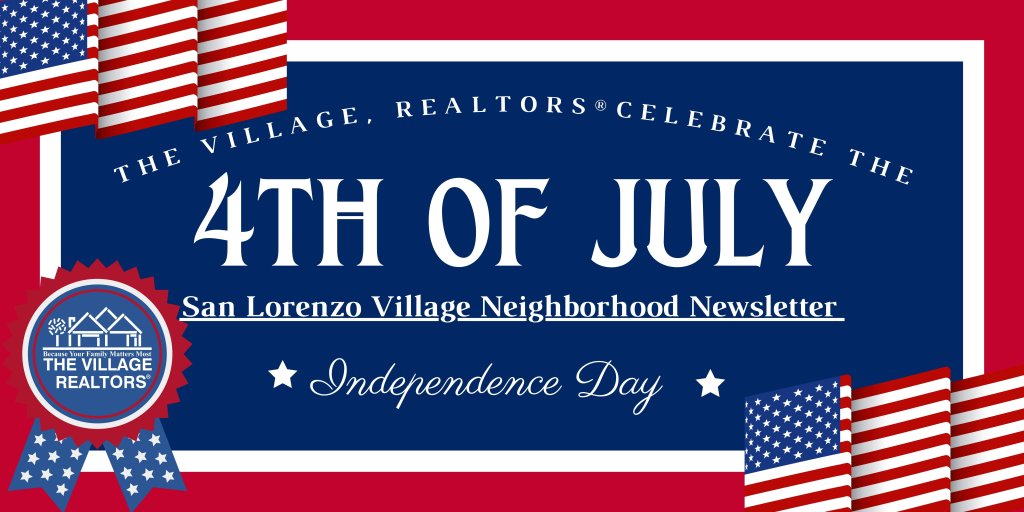 Hi , Happy 4th of July!
As we celebrate the joyous day of independence and community spirit, I want to reflect on the values that make our neighborhood shine brightly. The 4th of July reminds me of the incredible freedoms we enjoy as Americans, including the opportunity to live and thrive in a place we proudly call home.
Owning a home is a cornerstone of the American Dream. And San Lorenzo is rich with American and patriotic History!
In the 1940's San Lorenzo was part of a vast building campaign. The involvement of the United States in WWII created a need for shipyards around San Francisco Bay, yet housing for the vast supply of workers was in short supply.
David Bohannon, a Merchant Builder at this time, was granted permission from the War Production Board to build the most extensive home development ever insured by the Federal Housing Agency (FHA), and the San Lorenzo Village housing project launched as the largest privately financed housing project on the West Coast during WWII. Mr. Bohannon built over 5,000 homes in phases between 1944 and 1949. He completed a three-bedroom home at the rate of one or more an hour between 1944-1945, coining the term "California Building Method."
Fun Fact! – Have you ever noticed a door to the outside of one of your bedrooms? Or outside a bedroom, you noticed some mysterious steps leading to the inside but no doorway. Well, during WWII, workers could rent out one of the rooms in a San Lorenzo home for $50 a month or purchase a home for $5,950.
In today's market to purchase this same home, the median price range averages $749,994, and today's 30-year fixed rate loan averages 7.10% nationally- according to Bankrate.
Along with other essential factors, reviewing historical data is important when purchasing or selling your home. Additionally, if you or someone you know is considering a new chapter in their homeownership journey, we, The Village, Realtors® are here to help. As San Lorenzo's Trusted Realtors®, we have the knowledge, experience, and resources to guide you every step of the way. Whether you're buying, selling, or simply exploring the possibilities, we're dedicated to assisting you in achieving your real estate goals.
Wishing you a memorable, safe, and joyful 4th of July!
– Thomy Clements
P.S. Dont Miss out on my next Home-Wise Seminar in August! Sign up below.
---
Home-Wise Seminar
Protect Your Biggest Asset With The Right Coverage
Home Insurance Made Easy!
The impact of California wildfires and flooding has impacted the cost and availability of insurance
Join me and my guest speaker: Sean Nixon with Nixon insurance to discuss important topics:
Understanding Home Insurance Basics:
Identifying Fire Risks and Mitigation Measures:
Addressing Flood Risks and Insurance Coverage:
Evaluating Home Insurance Coverage:
Understanding Policy Exclusions and Limitations
And Much more!
Sign Up Now!
August 12, 2023, 11:00AM – 12:00 PM
San Lorenzo Library, 395 Paseo Grande, San Lorenzo, CA 94580, United States
---
---
---