Tips to Pricing Your Home Correctly
Your price has to please three people, YOU, the BUYER and the APPRAISER. If priced
correctly you will receive the Highest price, Most Favorable Terms, Shortest Time with the Least Inconvenience to YOU!
Q: How do I know what price to ask? How do I choose the real estate company that will do the best job and represent my best interests? How do I set the price?
A: Before you can set a fair market price for your home, you need an evaluation of market conditions from a local real estate professional. Many people don't realize that the house itself is not the only thing to be considered.
OUTSIDE FACTORS THAT AFFECT YOUR ASKING PRICE:
Economic conditions
Interest rates
Political activity (local, state, and national)
Supply and demand
Season of the year
Your home may have several possible values depending on the factors listed above, plus the terms you offer, availability of financing, and condition of the home and property. Our experience shows the following tips will help your home sell quickly at the BEST possible price:
Tip 1: Select a Price Carefully
Your price has to please three people: you, the buyer, and the appraiser. If you set the price too high, fewer people will want to see your home. As you can see from the chart, if you set your price just 15% too high, only 1 buyer in 10 will even be interested enough to take a look!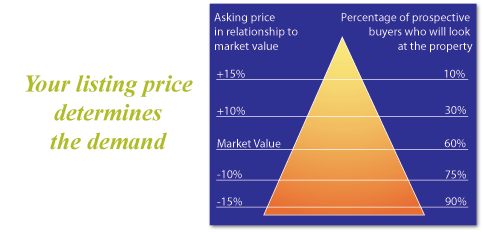 Tip 2: Compare to Other Homes for Sale
Find out what other homes in your area are selling for. Review records of past sales, current listings, expired listings, and pending sales.
Tip 3: Don't Set the Price Too High
An overpriced home quickly becomes "shop-worn." As time goes on and the home still hasn't been sold, people start to wonder what's wrong with it. Setting your price too high is not a good idea for many reasons:
The higher you price your home, the longer it will probably take to sell.
An overpriced house actually helps other houses get sold, because
they look like an even better value by comparison!
Fewer people will respond to our ads. Fewer salespeople will
show your home, and there will be fewer people to show it to.
A high price may attract the wrong type of prospects.
You may lose buyers who are unwilling to negotiate.
You will get many rejections and lose a lot of time.
Tip 4: Most Importantly… Use Your REALTOR®!
Depend heavily on your local REALTORS® proven expertise and experience. A local, experienced REALTOR® who is active in the community is the most valuable tool you have when selling your home.