Preparing Your Home For Sale…
Our goal is to help you sell your home for the best possible price in the shortest possible time. You can help achieve this goal by preparing your home to make the best possible impression. This booklet contains tips and proven marketing techniques that will give your home "Sale Appeal." We are here to help you take full advantage of these ideas when you decide you are ready to prepare your home for sale. – Tom Clements

Make Your Home…
Our goal is to help you sell your home for the best possible price in the shortest time. You can help achieve this goal!
Creating the Right Mood
Buying a home is not just a practical decision; most buyers are also swayed by emotion. The home must make the buyer feel comfortable. Subtle influences can make a buyer lose interest quickly:
Dark wall colors or overpowering wallpaper
Odors from pets, tobacco, mildew, or cooking
Loud noise from music, TV, children, or barking dogs
Unusual art or furniture
An overgrown lawn or peeling paint
Details like this can make the buyer believe that your home has not been properly maintained, even though it may actually be in very good shape
Outside the Home
Sidewalk and Street
If there is a battered fire hydrant at your curb, consider getting permission to paint it. Clean and sweep the sidewalk and all areas in front of the home. Pull weeds from borders and walkways, and repair any badly cracked pavement.
Driveway
Two elements of the driveway are important.
The first is its surface condition. If it is stained or looks worn, apply a new coat of sealer.
The second element of the driveway is the car that is parked on it. A shiny, well-maintained automobile makes a much better statement about you and your property than a dirty, neglected car.
Fences, Gates, Mailbox and Lamppost
Make sure all gates open and close smoothly. A freshly-painted fence makes the whole yard look better. If your mailbox and lamppost show signs of wear, paint or replace them.
Lawns and Shrubs
Trim overgrown bushes and shrubs. Make sure the lawn is mowed and trimmed: it must be neat and healthy-looking. Applying fertilizer and watering regularly will dramatically improve even older lawns. If your lawn still looks poor, consider replacing it with new sod. The time and money you spend on the lawn is small, but the impact on the buyer is large.
A Best Seller
The House Itself
Painting / Siding
A fresh coat of paint is one of the best investments you can make to increase the value of your home. At the very least, paint the shutters or the front of the house. If you have vinyl or aluminum siding, have a cleaning service wash or repaint it. They should use products designed especially for siding.
The Front Door

The front door is the focal point of your house. Dress it up:
Fresh paint
Flower box or planter
Brass kick plate
New door hardware
New light fixture
New houes number
Windows
These inexpensive steps can make your windows more attractive:
Replace cracked or broken glass
Touch up the paint
Add shutters to the front of the house
Install window boxes with bright flowers
Roof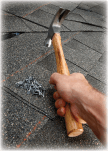 A well-maintained roof says good things about the condition of the property; conversely, there is nothing like a bad roof for instilling doubts in the buyer.
Repair flashing
Paint eaves and fascia boards
Replace broken or missing shingles (or tiles)
If the roof needs to be repaired or replaced, consider having the work done before you show the property
Gutters, Downspouts and Drainage
Neat, trim gutters and downspouts make a house look ship-shape. Replace any highly visible gutters and downspouts that need repair. If there are muddy, eroded patches under the downspouts, install new spillways to direct water away from the house.
The Senses
Inside the Home
Before we go on a room-by-room tour of the house, let's discuss how the senses can be an enormously effective selling too.
Light
If a buyer were to see two indentical homes, one brightly lit and the other dark, which do you think would sell? It has been proven that people react more favorably to well-lit properties.
Clean the windows
Use Light wall colors. Use higher-wattage light bulbs.
Magnify light and space with mirrors.
Replace old fluorescent lamps (they darken with age).
Open drapes and turn on lights before every showing.
Color

"Neutral, light colors" is a fundamental rule.
White is the most popular exterior color.
White, off-white, and very light pastels are best for the interior
Avoid highly-patterned wallpaper.
Only use bright colors for accents like fresh flowers, towels and area rugs.
Sound
There is no substitute for the sound of peace and quiet.
Avoid barking dogs and noisy children.
Don't use noisy machines like vacuums, dishwashers, and lawn mowers.
Make sure mechanical problems are not making noise (like banging pipes).
Create an upbeat atmosphere with light classical or instrumental music.
Smell
Smell is the most evocative sense. It can work for or against you.
Create a "new" smell by applying a fresh coat of polyurethane to wood or paint the walls.
Make the house smell clean with lemon oil or fresh flowers.
For a heartwarming touch, place a dish of vanilla in a warm oven, or put a drop on a light bulb. The smell reminds people of fresh-baked cookies.
Sweeten the refrigerator with a box of baking soda.
Avoid strong odors from pets, tobacco, mildew, cooking, or gas.
A Room By…
Room by Room
Entry
The entry makes a strong first impression. You can use it to make a big statement in a small area.
Repaint the entry in light, neutral colors.
Move in a prized antique or attractive piece of furniture.
Install a simple chair rail molding on the wall.
If the floor is wood, apply a fresh coat of polyurethane.
If the foor is tile or linoleum, make is shine.
Replace plastic switch plate covers with brass or porcelain.
Replace your tired-looking light fixture with a new one.
Make sure the entry is well lit.
Arrange fresh flowers nearby.
Kitchen
The kitchen is perhaps the most important room in the house. If your kitchen need real help, concentrate your improvement efforts and dollars here. Even if you don't spend a lot of money on extensive improvements, you can:
Make the room spotless and fresh-smelling.
Try putting a small section of lemon in the disposal and grinding it up.
Replace outdated light fixtures with track lighting.
Watch out for appliances in colors like gold and avocado; they look dated. Instead of replacing them, you can have them professionally refinished in almond, plain white or black.
Use new knobs & hardware to spruce up cabinets.
Have a professional replace or reface older cabinet doors.
Invest in organizer racks for the inside of the cabinets. Organized cabinets look bigger.
Put away all small appliances that are cluttering up your counter tops.
Repair or replace chipped or damaged counter tops.
Replace your worn linoleum with a neutral-colored no-wax floor or tile.
Paint the kitchen
Bathroom

Bathrooms are going from utilitarian to exciting. They are important selling features in today's house.
Place fresh flowers on the vanity.
Put in a new toilet seat.
Replace older light fixtures with track or makeup lighting.
Hire a porcelain finishing service to touch up your porcelain tub and/or sink.
Stow all your personal care items out of sight.
Freshen the air with lemon scent.
Install new towel rack hardware.
Add color & richness with new towels and shower curtains.
Living Room
We actually don't spend much time living in our living rooms, but buyers want an elegant room that will make an impression on their friends and relatives.
If you have a fireplace, show it off! Everyone loves a fireplace. Sweep it clean and make sure the screen is in good condition; even build a cozy, crackling fire if it is wintertime. In warmer months, dress up the hearth with plants, flowers or candles.
Use mirrors, especially over the mantle or across from a window, to make the room seem larger.
Use inexpensive, free-standing 'can' lamps behind large plants or furniture for a dramatic effect.
Install chair rail or cornice molding for a touch of elegance.
Professionally clean carpets and large rugs; sand and refinish hardwood floors.
Clean windows and light fixtures.
Repair all cracked plaster. (This applies to every room in the house)
Polish hardwood furniture with lemon oil for a lovely look and aroma.
Be liberal with fresh flowers and plants.
Bedrooms
Bedrooms can either help sell your house or turn off the buyer.
Make bedrooms absolutely spotless.
Rugs should be cleaned, windows washed, and the fresh scent of flowers or lemon oil should be in the air.
Organize closets to make them seem bigger. Wire closet organizers are a big help here.
Install mirrored closet doors to add dramatically to the feeling of spaciousness.
Make sure the bedrooms are well lit; track lighting is a good idea for the master bedroom.
Add a ceiling fan for a practical and attractive accent.
Last… But Not Least
Garage
Don't let your garage look like an after thought. A well-organized garage shows you are a careful owner.
Clean up oil stains.
Keep shelves and storage neat and orderly — buyers may open cabinets.
Intall a garage door opener.
Hang tools and other loose items on the wall.
Hold a garage sale to get rid of distracting and unwanted clutter.
Consider giving to Goodwill or any other organization.
In the Back Yard
Swimming Pool or Spa
A swimming pool or spa is a great asset, if it is sparkling clean and in good condition.
Repair or replace broken tiles.
Clean the concrete decking around the pool and repair any cracks.
Clean the pool filter and heater.
Replace worn or broken brushes, hoses, sweeps, pool covers & other equipment.
If your pool is stained, have a professional service drain and acid wash or refinish the surface.
A Step by Step checklist to help you Organize your home – Click Here